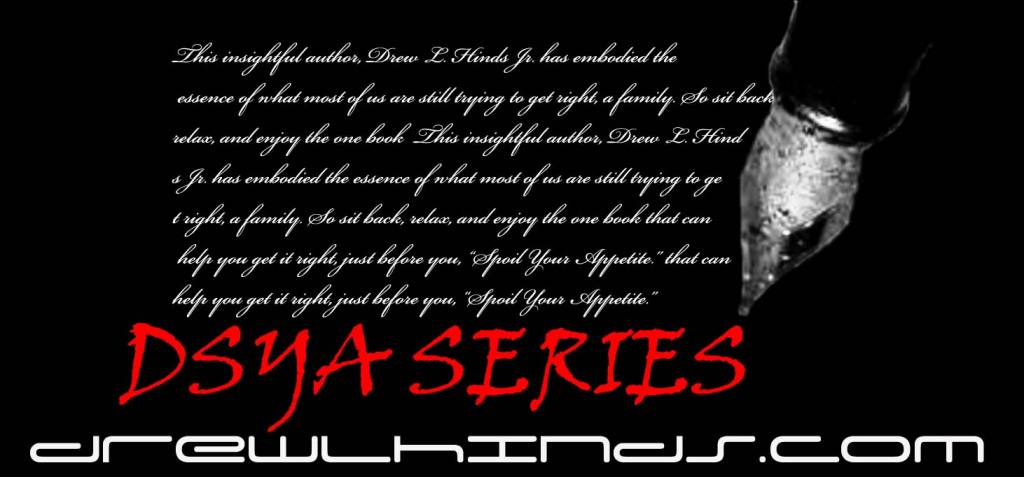 DON'T SPOIL YOUR APPETITE SERIES BOOK REVIEWS

"In general, the proof of a person's knowledge or ignorance is his ability to teach. Hence we consider art more truly knowledge than experience, for artists can teach and others cannot."
"God doesn't use perfect people,but willing people."In fact no matter what your statues is in life,you can only be used if you are truly willing to be used."- Drew L. Hinds 2008
Those of us, who know the word, understand that God can take the little that you have and make much more than you have ever dared to dream. We also acknowledge that God has no respect of person and will use ordinary people to do His will, the key is to be willing. I didn't choose singles ministry, youth ministry, family life ministry, music ministry, literature ministry, street ministry or personal ministry, yet it chose me. Once again, it means nothing unless you are willing to be used and have a willing heart.
I challenge you to read, "Don't Spoil Your Appetite," and I also challenge you to share the blessing. Take the time to understand that most of us just exist, we fail to live up to our true potential, because do not understand our purpose in life. We must first understand that we are all creations, so therefore there must be a Creator. Once we have arrived at that realization then, and only then can we begin to understand that our Creator has a divine purpose for our lives. It is only then can we live with a purpose.
I have received many testimonies of the life changing experience that has come about through reading, "Don't Spoil Your Appetite." Honestly, I am not surprised, because it changed my whole perspective on life, love and happiness by writing it. I do hope and pray you are truly blessed by my written work. If you have any comments or words of wisdom to share, please feel free to share with me. I believe that to be a good teacher, you must first become a good student.
If you would like to have a book signing at your venue, please feel free to contact me at (drewleriq@yahoo.com) and we will make the necessary arrangements.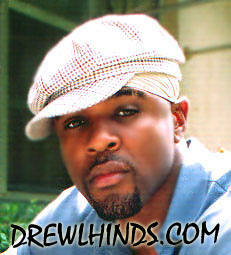 - Drew L. Hinds Jr., Don't Spoil Your Appetite 2008
Please, if you would be patient. The book review testimonies are being collected right this moment .
BUY YOUR OWN COPY OF THE BOOK NOW!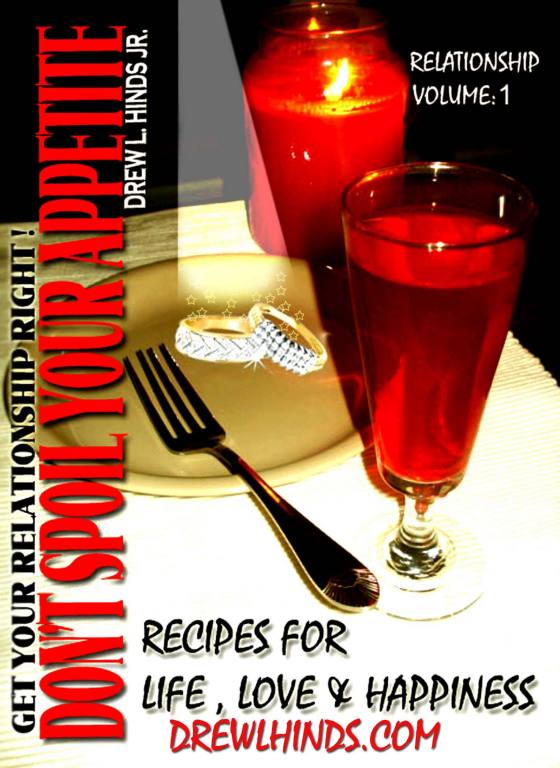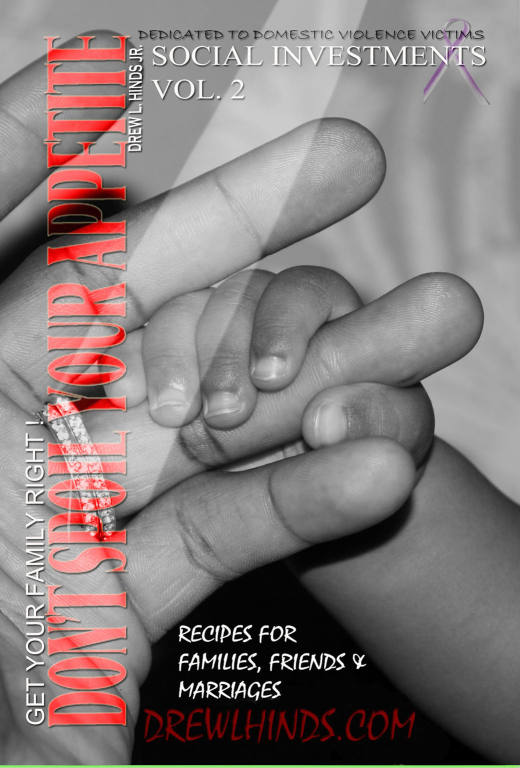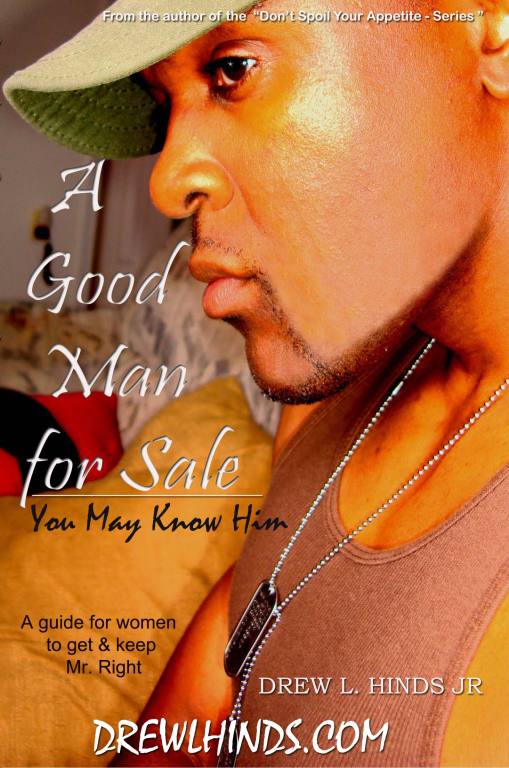 KINDLE KINDLE KINDLE
NOOK NOOK NOOK
PAPERBACK PAPERBACK PAPERBACK
-----------------------------------------------------------------------
"DON'T SPOIL YOUR APPETITE is a surprising delightful read. This is not just another 'RELATIONSHIP" book it is so much more. This author has mastered the craft of telling a story that grabs you from start to finish with his unique style of storytelling, poetry and some good recipes to top it off. The book explores relationships in a way that everyone can identify with. It transcends gender, genre, generations, time, and ethnicity. It really gets to what's important to you, in you and for you to be successful in any relationship.

The situations and characters may be fictional, but they were so vibrant and realistic that I was able to identify and embrace them with a sense of familiarity and truth. Truly a realistic, informative read with the right touch of wit, humor and spirituality for you to keep reading and wanting more. I intend to purchase this book for all my male, female, single and married friends. Unequivocally one of the best books I have had the pleasure of reading in a long time. Well done Mr. Hinds. Now that I have had a taste I am hungry for your next book and I definitely will not spoil my appetite." – Annette Williams (Bank Manager)

--------------------------------------------------------------------------

"I read your book "Don't Spoil Your Appetite" and found it to be very good. From the tone and nature of your writing, it definitely shows that you do have the talent of poetry. Poetry is one of those forms of writings that touches on human emotions. You appear to write with ease and the words seem to flow quite fluidly from your spirit. There is a sincerity and genuineness to the tone and style of your writing that I think will appeal to readers." - DR. DUFF (Author/Pastor/College Professor)


---------------------------------------------------------------------------



"Hi Drew, I'm so happy I've found you, and your poems which speak deep down to my soul, and I get so thrilled to read them.

You are great at doing what you were sent here to do. Your purpose must be fulfilled, and it's more pleasing that you're sharing it with a broken world. You can slowly heal one by one, as you pour your anointing poems and words over the hearts and minds of the deprived people who seek encouragement. You give hope and tranquility as a friend who understands. You are a shining light and example to me. I know you may not know, but you just added joy to my heart in knowing someone cares about humanity and possesses the humane spirit. Just to know that someone cares about the world and is trying to make a positive impact on the lives of many.

I love your spirit, I love your soul.

I take no one for granted and too many times we watched positive people play important roles and never give acknowledgment. So, there I am Sir, as humble as I can, saying thank you for sharing your positive inspiring poems and books with others.

May God and your Angels guide you and be with you always. You're a blessing and you just made a wonderful difference in my life. Thank you, Drew. I'm impressed with what God has destined in His plans for you to do here on earth, very powerful. God is good and ever to be praised. Blessings to you and your family." - D.C. Perez


--------------------------------------------------------------------------


"I would call "Don't Spoil Your Appetite" a Godly inspired publication / a Spirit to Spirit conversation. It was written with fluidity and ease, emancipating a spiritually deep emotional conviction from the author, which catapults itself into the life of the reader to provoke thought, awareness and change. This book is definitely a ministering tool." - Sheree (Book Editor)

-----------------------------------------------------------------------------

"I have completed reading your book "Don't Spoil Your Appetite" and I am so proud of your accomplishment. It was an easy read and very relevant for individuals in this day and age. I like the way you incorporated the stories, quotes and actual recipes that was creative. (I love trying new recipes...as money and time permits me:) Many of the principles you mentioned I was aware of and there were some that you definitely added a new perspective on. Your stories were very detailed and created that imagery (for my animated mind); it drew me into the characters role. For instance, one story that really hit me was the man who went to buy the gift; but his lady was questioning him. It sounds so common, but I really felt bad for the guy as he was trying to do something positive.

I give two thumbs up to the car analogy, I had a thought similar to this one and you touched it really well ...BAP BAP! I had questions about what unequally yolked means. I understand it more now after reading the book." - Stephy (Educator/Mentor/Poet)


-------------------------------------------------------------------------------

"I enjoy reading your book, Don't Spoil Your Appetite: volume 1, and want to thank you for the valuable knowledge that I've gained. Your well thought-out candid reflection on life, love, and relationships in this book are appreciated. I like the fact that the chapters are short and full of practical advice and information. The scenarios followed by antidotal remedies/suggestions sparked my curiosity and made it more interesting.

The phrase "an Ex is an Ex for a reason" (page 16) reverberates in my mind on a regular basis. The most appreciated and profound advice that I've held on to is "If you don't leave your past behind, you will find yourself in the same stressful predicament you're trying to escape from...and you will find that you are giving up control of your future to someone from your past" - Mauve (Nurse Practitioner)


---------------------------------------------------------------------------


"Your book have actually made me rethink the direction my life is headed. I have asked myself question such as.. What is it that I want in life and in a mate? Am I really ready within myself to receive my prefect mate? AM I RIGHT WITH GOD? This book has given me a start... your book is 2008 bestseller. EVERYONE BUY a copy of this book... YOU WILL NEVER be the same..." - Aldean (College Student)


-----------------------------------------------------------------------------


"As for your book I did purchase it and I enjoyed it very much. It must have been very difficult to cover such a complex subject in a condensed version, but you did a pretty good job. I loved the questions at the end of each chapter, which forced the reader to reflect on what was covered and how it relates to them as an individual. I think with a technique such as this, the likely hood that readers will make actual lifestyle change is increased. I loved your reference to some ex's as vultures, because I believe nearly everyone could relate to that. You have created a wonderful work here and those who are lucky enough to read this book early will be saved a great deal of hurt, frustration and confusion about what may have gone wrong in past relationships.

Clearly this book was written from a male perspective with the target audience being the female. In the next volume I would like to see more of a balance in the material - as it relates to the male and common pitfalls they make in relationships. While any woman could read this book and reaffirm her place in the life of her mate, because the book does minister to the soul; I think it is equally important any male reading a book of this kind knows his place also. The marital union has changed so much over the past 30 years, largely in part due to lack of knowledge of the principles and guidelines ordained to each party by God. For as wives ".... reverence their husband, notices him, regards him, honors him, prefers him, venerates him, esteems him, praises him, defers to him, loves him and admires him" ; God charged man to love your wives as Christ loved the
church and gave himself up for her...Husbands should love their wives as their own body". Ephesians5:25, 33. Emotional intimacy in any relationship is so important and I think this book builds a foundation for prospective mates to explore that before any physical connection. Bless you for sowing this seed into the lives of others. I look forward to your next volume.

P.S I have attached a slideshow that I keep on my desktop to remind me daily of what loves is in its purest and most selfless form. I hope you enjoy it as I did." - Rebecca Harley (Social Worker)

="return false"